Hirohito Juuma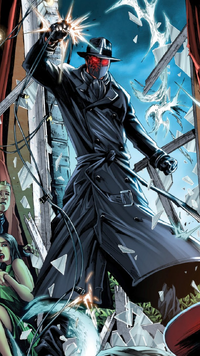 Characteristics
Status
Occupation
Villain; CEO of Juumasan Video Game
Origin
First appearance
Appearance of Death
Hirohito Juuma is the son of Oni Juuma, the former leader of the Yakuza. After his father had apparently died, he swore vengeance on Green Hornet. He killed Kato's wife, Sayomi, and after he was killed by the Green Hornet, his sister, Katsuko, sought after vengeance and tried to kill Mulan Kato.

Powers and AbilitiesEdit
Powers
None
Abilities
ParaphernaliaEdit
Weapons
Handgun - He once shot an employee using a type of handgun.