Jurassic World: Dominion Dominates Fandom Wikis - The Loop
Play Sound
Jana Sky-Born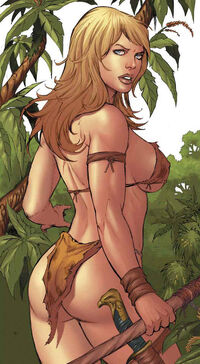 Aliases
Jungle Girl; Jana the Jungle Girl; Jana Sky-Born of the Rock Tribe; The Chosen One
Characteristics
Status
Origin
History
[
]
Little is known about how Jana ended up on the island she currently lives on, all she knows is that she has lived there as long as she could remember. She had a somewhat peaceful life despite all the cavemen and dinosaurs roaming around, until a plane crashed in the jungle. After the plane crashed, she protected the TV crew who were in it at the time, but, one-by-one, they were eventually killed off, apart from one, Mike, who turned out to be a DEA agent who was to gather evidence and arrest the others when they got to civilization.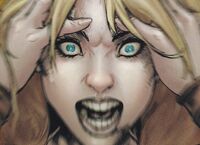 Jana, Mike and Togg, Jana's best friend, eventually found a submarine, but while they were on board, Jana was taken underwater by a giant sea creature. She woke up in an underwater city occupied by Mer-Men, which worshipped something known as The Master. She was imprisoned with Gower, one of the crew men from the submarine who was previously taken. Togg and Mike were able to rescue her and Gower, and helped them escape to the shore. Before they could get to the shore, The Master wrapped one of its tentacles around Jana and pulled her back. Togg went to save her, but was seemingly hypnotised by the creature. Jana tore through the tentacle and used a spear gun to injure, or kill, The Master, allowing them to escape to the shore.

Powers and Abilities
Abilities
Paraphernalia
Equipment
Vine Rope
Clothing Caches - Jana has several clothing caches stashed around the island in case her clothes tear.
Links
[
]
Media Jana Sky-Born (Earth-818793) was Mentioned in