Aliases
Lady Sonja of Dorn; Queen Sonja; Queen of Sogaria
Base Of Operations
Mobile
Characteristics
Status
Occupation
Mercenary; Adventurer; Warrior; formerly; Noblewoman; Queen
Education
Trained to fight and taught of her past life by Osin.
Origin
Origin
Reincarnation of Red Sonja.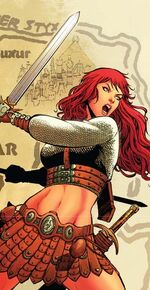 Lady Sonja of Dorn is the descendant and reincarnation of Red Sonja. She was married to Lord Daniel, but he was killed by a group of pirates. These pirates were hired by Sonja's sister, Verona, and her husband, Lord Lucan Martur. She was almost killed during the attack, but Osin rescued her.
Due to being reincarnated, Sonja had no memories of her first incarnation, nor did she have faith in Scathach, meaning she needed to be retrained by Osin. She was a quick study and was able to learn rather quickly, and thus becoming a seasoned warrior in a short period of time.
Eventually, she became Queen of Sogaria, but stepped down and left Zartur in charge of her kingdom.
A demon known as Bhamothes had once possessed her, turning her into a werewolf and sending her into a rage and a killing spree. While she rampaged, her soul had been cast elsewhere in order for Bhamothes to use her body as a vessel, and so she wandered until she was attacked by some wolves resembling Bhamothes, and later her old friend, Bregan, who then tried to kill her, resulting in Bregan having his head cut in two, and thus his soul became lost forever. Sonja however, continued and fought the demon, who then took her form, but it she was still able to kill it. She then woke up back in her normal human form, unclothed and sick, miles from the town. She then picked up Bhamothes hide as a trophy of her battle, and wore it on her travel back to the town.
One time, Sonja ended up in 2012 and joined forces with Dracula, Eva, Pantha and Vampirella in order to stop Kulan Gath. They also got help from Herbert West, a scientist known as the Re-Animator, and the one who was in possession of the book of the dead, the Necronomicon.

Powers and AbilitiesEdit
Abilities
ParaphernaliaEdit
Weapons