We're Getting Mutants in the MCU - The Loop
Play Sound
Black Terror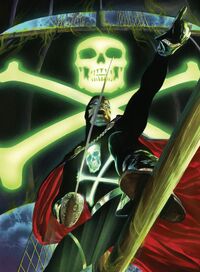 Characteristics
Status
Occupation
Superhero; Chemist
Origin
History
[
]
Robert Benton was a superhero known as Black Terror during the Second World War. One of his allies, The Fighting Yank, believed that in order to stop the Nazis, and all evil, he would need to trap as many heroes in the Urn of Pandora, and so Black Terror was entrapped in the Urn.
Black Terror was the first to be freed from the Urn approximately 60 years later. Despite the retired Fighting Yank freeing him, he still would not forgive him after the initial entrapment.
Black Terror now fights alongside many of the superheroes from the 1940's (as well as some newer ones) as a team called Team Superpowers.
He was also once trapped in another dimension after his sidekick, Tim, used a ray gun on him, thinking it would disintegrate him.

Powers and Abilities
Powers
Superhuman Strength: The formula that gave Black Terror his incredible durability also enhanced his strength to the point that he was able to punch Dynamic Man right thought his chest.
Superhuman Agility: Black Terror can perform jumps and acrobatic feats impossible for a human.
Invulnerability: The serum that Black Terror ingested granted him incredible levels of durability that made him completely bulletproof, although he can still feel pain he can suffer falls from great heights, blows from Superhuman opponents and high-caliber bullets without sustaining injury.
Abilities
Links
[
]
Media Robert Benton (Earth-818793) was Mentioned in

Quotations by or about Robert Benton (Earth-818793)

Character Gallery: Robert Benton (Earth-818793)